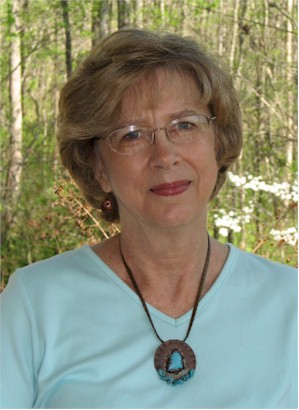 Gloria Adams passed away in El Paso, Texas, on February 29, 2020, while traveling home from a vacation in Quartzsite, Arizona. Our family suspects an undiagnosed case of COVID-19 was the cause of her death. There is no longer any jewelry for sale on this web site; its purpose is to remember Gloria and her unparalleled talent for wire wrapping. It hosts photos and descriptions of every jewelry creation ever offered for sale in the 16+ years the site was active.

Why wire wrapped jewelry? Gloria loved jewelry. She loved to buy it; she loved to wear it. Gloria bought clothes to match her jewelry; she fell in love with and purchased her first piece of wire wrapped jewelry at a local gem & mineral show.

In 2004, Gloria attended the William Holland School of Lapidary Arts in Young Harris, Georgia, and learned wire wrapping techniques so she could design her own wraps. In 2005, she returned to William Holland for a more advanced wire class. In 2006, she studied Chaining. Back to William Holland in 2007 for her first Silversmithing class! Over the years, she attended many more classes; William Holland was her favorite place away from home; she would light up a room with her smile, and her laughter was contagious.

Gloria was a juried member of the Alabama Designer Craftsmen since 2005. Her wire-wrapped cabochons (cut by her husband Steve), earrings, and copper jewelry were popular items in ADC shows over the years.
Semi-precious stones are among the most spectacular of God's creations. As found, many look like plain old rocks. But cut and polished, they demand attention! The stones in Gloria's pendants are the focus of the jewelry. She wrapped cabochons in such a manner as to enhance the beauty of each stone. While the natural beauty of the stone makes a pendant stunning, any bends or nicks in the wire would detract from the pendant's beauty. You will see neither in these jewelry creations; Gloria's wrapping was the best I've ever seen.
Gloria's primary goal was the satisfaction of those of you who appreciate her jewelry enough to purchase it.

On February 29, 2020, I lost a wonderful friend, and the world lost a shining talent. -- Steve Adams