Purchases
made through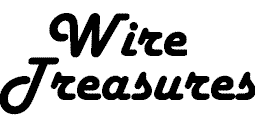 individually created
wire wrapped jewelry
by

Designer cabochons wrapped in 14K Gold Filled and Sterling Silver wire.
Unique hand crafted pendants, earrings, and custom-fit bracelets.
Gloria passed away on February 29,
2020, after a short illness. Please feel
free to shop on the web site. I will ship your
purchase as soon as I am able. -- Steve Adams.
Questions?
E-mail Gloria by clicking